Survival Quest
20 Day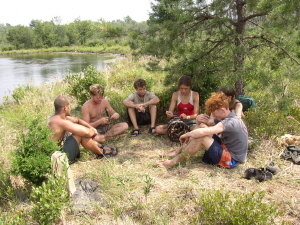 Program Description:
This experience will test your skills and allow you to get directly in touch with nature and yourself through the purity of wilderness. We will be living close to the earth, re-setting our internal clock, losing our modern "necessities" and move towards full survival. This experience will include a 3 day solo Quest and a wandering group survival quest. We will wandering in many of the sacred areas of the Pine Barrens where Grandfather taught Tom And Rick.
New for this summer:
Coyote Tracks Survival Quest will have added support programming before and after Quest. Due to the intensity of this course COTEF will have a pre-trip phone or in-person meeting with Parents and Teen and also 4 follow up meetings 2 in the fall, 1 winter, and 1 in the spring to give on going support to both Teen and Parent.
This course will be taught by Rick Berry, Director of COTEF with other highly trained staff .
Date/Location:
July 1 - July 20, 2007 - New Jersey
Prerequisites:
Ages 15-18
Teen Experience, Way of the Woods, & Scout or Skills of the Scout
Fees: