Wilderness Survival Experience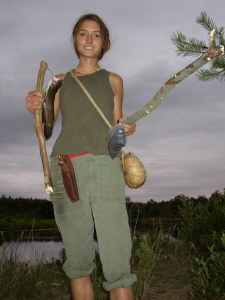 Program Description:
A new Coyote Tracks week long course. For those who want to get out for a week and live close to the earth. Build a shelter to sleep in for the week, go fishing in the lake, make pottery from the local clay and most of all let go of time and destination by fully emersing yourself into nature. We will be going out with a small survival pack of the smoked fish and meat you prepared , a gourd water bottle, and a knife. For advanced students this course can be taken in conjuction with Way of the Gatherer and Coyote Scout Philosophy for a three week advanced experience.
Date/Location:
July 16-22, 2006 - New Jersey
Cost:
Prerequisites:
Ages 13-18
Teen Experience, or Coyote Tracks Experience