Scout Team Training Weekend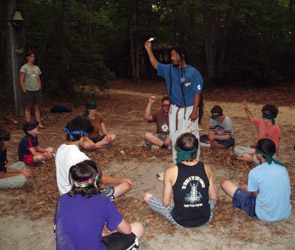 Program Description:
What you can expect to experience:
Scheduled training in different locations, workshops with new skills and further exploration of the ways of the modern scout, intense physical training, overnight training missions, long distance high speed invisible scout travel, incorporating new skills learned, progressing in difficulty as this program expands. An online communication network, with frequent new skill challenges, question and answer forum, check-ins via email to stay connected and in training mode, adventure story and picture display, allowing us all to communicate better and more often, so the completeness of our training will be on going and thorough.
We have a date set, for the weekend of May 12th 2006 for the premiere workshop/mission, Friday evening through Sunday morning in the Pine Barrens. There will be bi-monthly assignments through the on-line correspondence course starting in September. These will include different skills challenges, daily journaling, sit spot time, and a physical work out program. There will be one official gathering per season starting with May 12th, 2006 and there is a new advanced Scout class being offered this summer: Scout Team Training Week, July 30-Aug 5.
Applications deadline: April 15, 2006. Applicants are required to send in a journal entry about their wilderness survival experience; including bow-drill fire making and sleeping in a shelter.
Date/Location:
May 12-14, 2006 - New Jersey
Cost:
Prerequisites: