Coyote Scout & Advanced Coyote Scout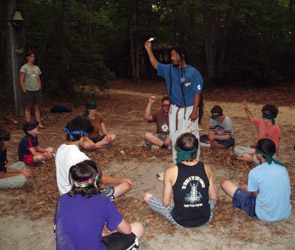 Program Description:
COYOTE SCOUT: Are you ready to dive into the world of the Scout? This advanced week long course for teens focuses on the lives of the Apache Scouts. Here, we begin to understand what it means to become the eyes and ears of the people as Grandfather and his people taught. This encompasses learning more advanced shelter and fire techniques, animal forms, martial arts study, tracking, invisibility, physical and spiritual workouts, group dynamics, and most importantly, awareness. Students will expand their awareness in all areas, and be challenged to live as, and for, a community. Ages 13-17.
ADVANCED COYOTE SCOUT: Now in our 9th year of summer programs we will be offering an Advanced Scout class for the second time. There is so much to learn and experience living as a scout. This course will be an intense week long adventure in scout living and training. It is important that you have practiced your scout skills and are in good physical shape. We will be moving as a scout tribe, learning nature ' s laws of concentric rings, counter tracking, and the art of invisibility, among many other skills.
*( this course will not be offered next year)
Date/Location:
COYOTE SCOUT: July 15-20, 2007 - New Jersey
ADVANCED COYOTE SCOUT: July 15-20, 2007 - New Jersey
Prerequisites:
Teen Experience, or Coyote Tracks Experience
Must have taken Coyote Scout BEFORE taking Advanced Coyote Scout
Fees:
$1275 for any parent/child combination
$500 for each additional family member (whether adult or child)
$825 for an individual youth or teen