Family Weekend Survival Workshop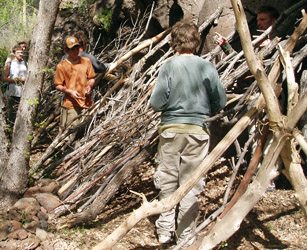 Program Description:
Our Family weekend programis designed for Families to come with their children ages 7 and up. Families can come with teens or youth. Children 7-9 are required to have a parent or guardian attend with them. This is designed to allow the entire family to come together. We will be going over the basic elements of survival; shelter, water, fire, and food. The weekend is taught through hands on activities, games, and stories.
Date/Location:
April 6-7, 2007 - Santa Cruz,(Boulder Creek), , California
program runs 2pm Friday to 2pm Saturday
May 25-27, 2007 - Pine Barrens, New Jersey
Program runs 6pm Firday to 12pm Sunday.
Fees:
New Jersey :
$350 for any parent/child combination
$150 for each additional family member (whether adult or child)
$275 for an individual youth or teen
California: (Lower fees due to shorter program)
$250 for any parent/child combination
$100 for each additional family member (whether adult or child)
$150 for an individual youth or teen